---
We love ALL drums and drummers! Having played for over 60 years myself, I love to share what I know with as many people as are interested. If you are seriously interested or even curious about drumming and learning more, please contact us today: info@drumconnection.com
---
At DrumConnection, we take the deeply rooted, 'genetic connection' humans have with music and combine it with the time-honored traditions of drumming and dance of many cultures. For the past 42 years, our main focus has been on African drumming of the 5-7 djembe/dunu specific countries and the rhythms, people's lives, close friendships & the school we formed of West African drumming over 39 years ago for those at all skills and experience levels.
Increasingly, the djembe and dunu of West Africa, have taken a huge leap forward in the US. It shows up in school systems for the kids and now in major Music Schools. We take all that seriously and have fun & enriching drumming classes and workshops. Join us! Learning to play djembe well can be fun and easy!
All-Levels Djembe Drumming Classes for you on Tuesday Evenings, 6 sessions - December 6, 2022 - January 10, 2023, 6:30 PM - 8:00 PM. Beginners are very welcome! Held in private home in Chestnut Hill, MA. Directions sent to paid registrants. $149.- (6 sessions 1.5 hrs each). Rentals available. Limited to 8 registrants!
More classes will be listed soon!
---
Mamady WADABA Kourouma
Upcoming Drumming Events - Boston, MA USA · FALL 2022
WADABA! The COMPLETE djembe and dunun DRUMMING EXPERIENCE!
April 14, 15 and 16, 2023
Most of you know him and he is THAT good! You need to study with him. His style of teaching and playing is second to none. From the village of Oroko, Guinea to you! Register today for your space in this incredible workshop series.
Reduced Spring prices make it totally affordable. Go to:
WadabaBoston.com for more info and to register today.
Please register early for these special workshops with Wadaba as we sometimes fill up all spaces quickly! Space is very limited. Come out and join our wonderful community in rhythm. If you have any questions, please give us a shout @781-316-8068 or info@drumconnection.com.
—
And BEFORE the Workshops above…
Trip to Africa with WADABA 2023!
January 15, 2023 - February 12, 2023
Four-weeks in his village - Oroko, Guinea (West Africa) where you will experience the hospitality of all of the people in his village, eat awesome food prepared for you my the Oroko women and the children help :) (we can easily deal with food allergies). Traditionally there are 3 meals a day. Lodging will be in thatch-covered secure structures where you will be safe and sound. 
Cost: $2,500.- USD You don't have to be from the US! People are welcome on our trip from anywhere you reside. Please contact me, Alan Tauber, to get more info &/or to sign up for this once in a lifetime experience. If you have any questions, please give contact me at @781-316-8068 or email at info@drumconnection.com.
Airfare is not included in the cost. You need to secure your own airfare to arrive in Conakry Guinea CKY on January 15, 2023. We meet you at the airport and take care of everything from that moment till your flight back on February 13, 2023. We can help you find reasonable and sometimes downright cheap airfare!
Famoudou Koanaté, the greatest djembe master of our century found and was an inspiration to Mamady Kourouma. "Wadaba", means Great Panther, and comes from the people of his motherland, who say his sound on the djembe drum has the power of a wild cat's scream.  He grins at his audience and, with a thunderous slap on the drumhead from his rawhide hands, has them jumping out of their seats. 
Register now if there is still room. Thanks! See you in a week. From Oroko, Guinea to you!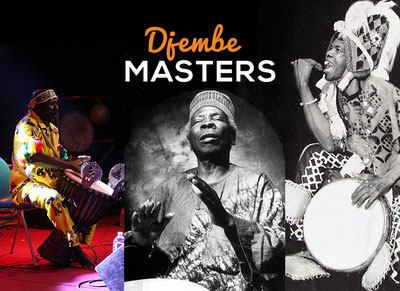 Register below:
• Monday Zoom classes on Monday evenings Oct 10th for 8 weeks. Zoom in with us for a great time learning the real deal
• Friday Djembe/Dunun classes with Alan will continue after a break and start up again October 28 th at $25.- per class - drop in, or sign up for the semester at $169.- we're there! Bring drum or rent! Rentals that you take home with you are at $75 for the whole semester. Practice! :)
Read all of the details below...
---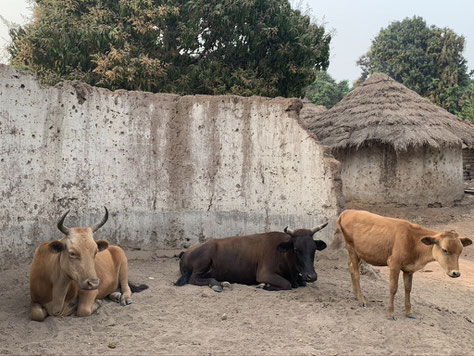 Zoom Online Classes with Alan Tauber and the complete dunun section.
Online Class - From the comfort of your own home anywhere in the World. Mondays 6:30-7:30 pm
During the past 4 years, DrumConnection has developed a very powerful way of reaching through the Internet to teach you how to play your djembe or dunun drums in the comfort of your own home or office.
With the dunun melodies playing in the background, we will build upon what we already know and become more musical, get into traditional hand-patterns and explore improvised solo phrases.
I hope to see all of you there!
Semester: 8 scheduled classes. $159.-
Drum Rental: $75 for the semester. Pick up from us or we can deliver if you live close.
Register soon!
Soon CLICK HERE to register >>
We start Monday October 10, 2022 for 8 sessions. 
Payments accepted via Venmo: @Nancy-Browne-10 (1952, if asked) Checks welcome made out to 'Alan Tauber' Box 293 Wayland, MA 01778. Any missed classes will be covered by sending you the complete video of that class. You receive a full copy of the complete class each week whether you attend or miss so you never actually miss a class!
---
• Friday Night Djembe Drumming Classes in-person     
Friday October 28, 2022 as a drop in $25.- per class. If you don't own a djembe, please let us know and for and extra $5 we'll bring one to class. Most people sign up for the 8 Friday Sessions at $169.- below at the link. 
--------
8 Friday Sessions
October 28, 2022 - December 16, 2022 
7:00 PM - 8:30 PM 
Munroe Center for Arts - Lexington, MA 
You will get solid and fun instruction in the music, history and specifics of a series of rhythms from West Africa.
You will benefit from the teachings of my African, Cuban and Haitian professors before me. You will become a better drummer no matter what stage you are in now.
These intense drumming classes are perfect for Beginner, Intermediate and even Advanced drummers! It's all fun and you will get a lot of playing in and good instruction often with commentary from me. Parking is easy behind the school and enter thru the rear door or the front!
Semester: 8 scheduled classes. $169.-
Payments accepted via Venmo: @Nancy-Browne-10 (1952, if asked) Checks welcome made out to 'Alan Tauber' Box 293 Wayland, MA 01778 • Rental djembe available ($75.-) if needed; contact us a few days before class. Any missed classes may be made up at another one of our DrumConnection classes happening during that semester in which you are registered, with teacher's approval. 
---
We have extra drums if you don't. Let us know if you need a djembe and we'll try to get one to you.
Drums!
If you contact us soon, you can also purchase a djembe and get it in time for class.  We have them made in Guinea, West Africa and put the skins on ourselves in the  DrumConnection Workshop. This class attracts people from all around the world on our on Zoom classes, on computer, tablet or phone. And we can recommend someone in your area or country where you can get the perfect djembe locally. Contact me for discussion on what we make and what is best for you in price, size, and current ability. 617-686-6080
---
---
---
Using Guinean goat and cow skins and traditional methods, we will make your drum like new or really, better than new! We also can repair dunun, (djun-djun), doumbeks, congas, bongos, etc. Call or contact us. Check our checklist for drum repair. Let us make your musical instruments better than new! Yes, your djembe will sound and play much better than new!
These young women came into Boston but their drums were held at the airport! I got an emergency call from my friend Mustapha who told me of the situation of lack of djembe and dunun (and the concerts they had at Harvard's Sanders Theater, that night so what you see and hear above are DrumConnection, made in Guinea, djembe and dunun played by members of Nimbaya! Women Drummers of Guinea.
---